Cindy Hsin-Liu Kao, assistant professor in the Department of Human Centered Design, together with graduate students Heather Jin-Hee Kim and Pin Sung Ku, will present at the Association for Computing Machinery (ACM) CHI conference (April 30- May 6); the oldest and largest conference in the field of human computer interaction (HCI).
Cornell's Hybrid Body Lab, which Kao directs, works at the intersection of HCI and fashion design and body art. In the lab researchers are crafting technology, especially soft technology, which is more comfortable and wearable, for use on the body. Traditional devices that are worn close to the body are often constructed using silicone or tend to be rigid, such as a fitness monitor. Kao became interested in using electronic textile technology – specifically weaving and knitting – because it has superior qualities including softness, structural durability, and sustainability. KnitSkin and Patch-O, the projects they are presenting at CHI on May 3, are the result of years of research at the lab.
Patch-O
Patch-O adopts the underexplored form of a slim woven patch to incorporate movement-based motion including bending and shrinking. Taking a cue from garment mending and sustainability, the small patch enables diverse movements with less overhead than fabricating a full garment while also being reusable and easy to modify. Patch-O is embedded with shape memory alloy (SMA), which can contract when activated. Depending how you weave it, the patch deforms in different ways. Pin-Sung Ku, a second-year Ph.D. student in Information Science, works in Kao's Hybrid Body Lab. He worked on Patch-O during the height of the pandemic.
"I find weaving to be a very soothing activity," Ku said. "It is an opportunity for my mind to be open and to come up with new ideas."
Ku and the team worked with different weaving methods to optimize the SMA and incorporate it into the textile. Next, they invited local weavers to learn about SMA and challenged them to integrate the SMA into a patch using their preferred weaving technique. The results include novel applications including for aesthetics, bending so people could change their hair or fabric to make a statement; function, moving so a scarf could regulate heat or humidity; and shape, altering the waistline of a dress or shortening a sleeve.
"I love this project because a goal of our lab's work is to democratize these technologies and enable non-technical makers to use them," said Kao. "The user study produced interesting results and integrated their unique artistic practice."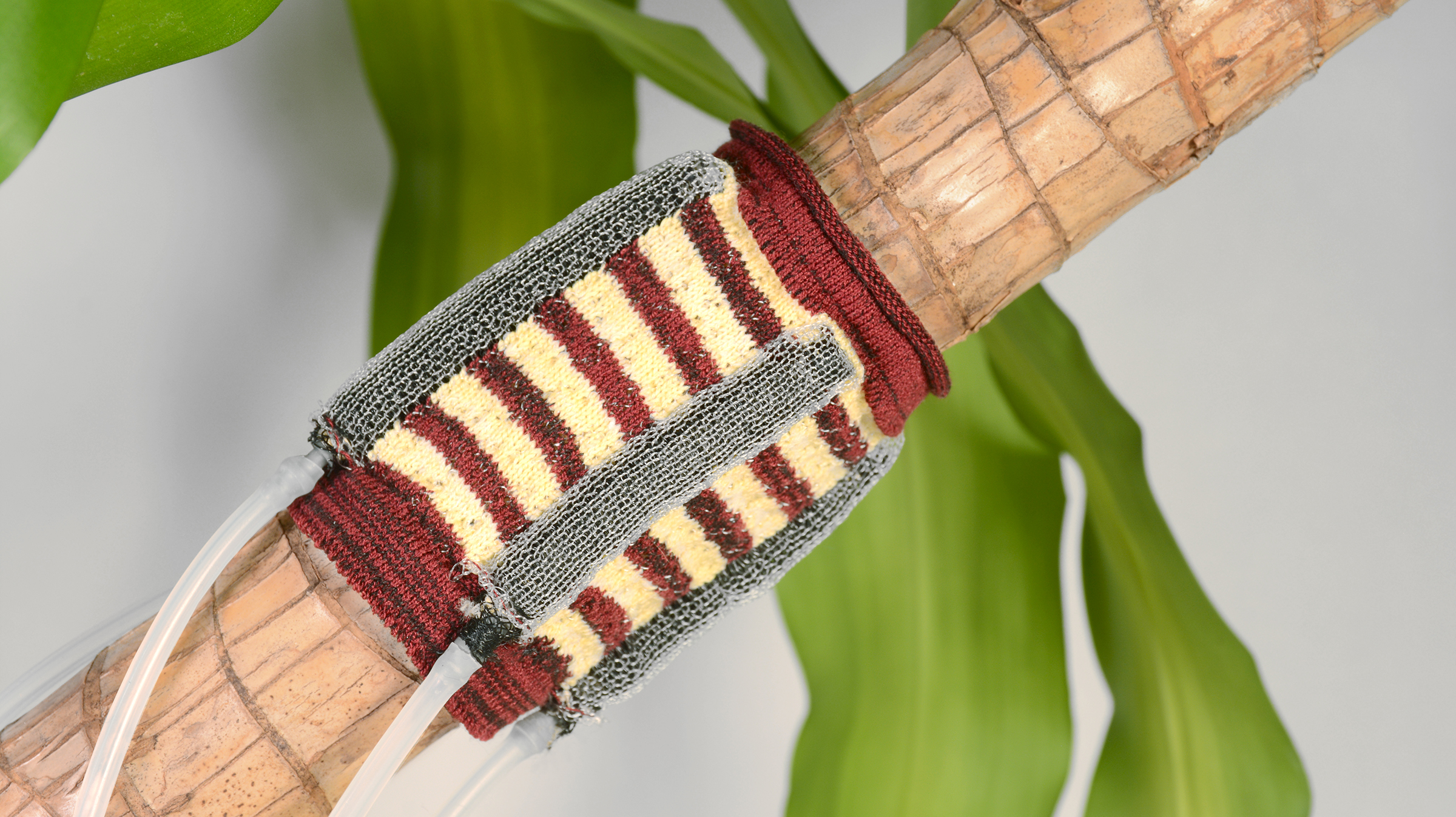 KnitSkin
KnitSkin is a stretchable knitted textile robot that can locomote and move up surfaces on its own. Inspired by the movement of snakes and other limbless creatures, the team used digitally knitted loops that mimic snakeskin, and built-in actuators, similar to snake muscles to make this robotic textile.
Heather Kim, a Ph.D. student in the Department of Human Centered Design who has an interest in using knit textiles for medical applications, explained that the project has roots in multiple disciplines including robotics, pneumatics, textiles and computer science. Many robots used on vertical or cylindrical surfaces are bulky because they require four legs to grip the surface. KnitSkin's extremely stretchable material, combined with actuators, allow it to move on cylindrical surfaces and slopes or maneuver corners including a human joint. The project required significant testing to find a knitting pattern that optimized design including effective travel distance.
KnitSkin could be used practically for agriculture, industrial or medical purposes. Potential uses include employing its tree-climbing capability for targeted pest-control, repairing pipe leaks by embedding water-soluble thread that becomes rigid when wet, or applying compression in a medical setting.
Patch-O and KnitSkin are two of 16 papers being presented at CHI by Cornell faculty and students.
KnitSkin is supported by a generous grant from Accenture Labs, and both KnitSkin and Patch-O are supported in part by the National Science Foundation under grant IIS-2047249.
KnitSkin paper full author list: Jin-Hee (Heather) Kim, Shreyas Patil, Sarina Matson, Melissa Conroy, Cindy Hsin-Liu Kao
Patch-O paper full author list: Pin-Sung Ku, Kunpeng Huang, Aditi Galada, Cindy Hsin-Liu Kao
Photo at top: An open/close expanding patch is attached to a hat at the forehead position to resemble the effect of "opening the third eye." Photo at bottom: By modifying channels into pockets for a portable pesticide dispenser KnitSkin work as an agricultural robot. All photos courtesy of Hybrid Body Lab.