O'Brien Lab Research
The O'Brien Lab has numerous research projects currently recruiting participants. Below are all the current studies running in the lab. 
N.B. Although we do emphasize conducting pregnant and pediatric population-based research, the studies below are not limited to those populations unless otherwise noted.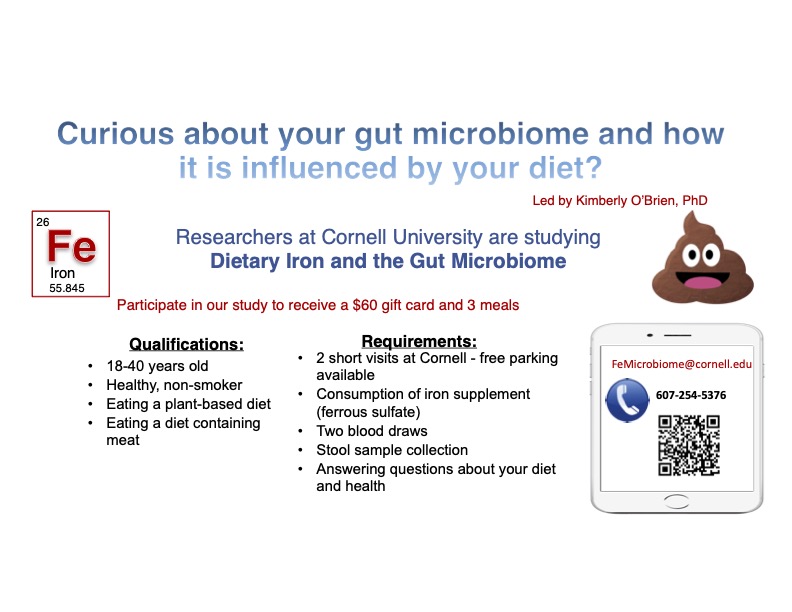 The FeMicrobiome Study, led by the O'Brien lab, is seeking participants. This study seeks to understand how diet impacts the gut microbiome and iron absorption. 
Eligibility: 18-40 years old, healthy, non-smoker, habitually ingesting a plant-based diet, habitually ingesting a diet containing animal products
Time Commitment: 2 short visits to the Human Metabolic Research Unit in Martha Van Rensselaer Hall 
Study Location: Cornell University, Ithaca, NY
Honorarium: $60 gift card and 3 free meals
Email: FeMicrobiome@cornell.edu
Tel: (607) - 254 - 5376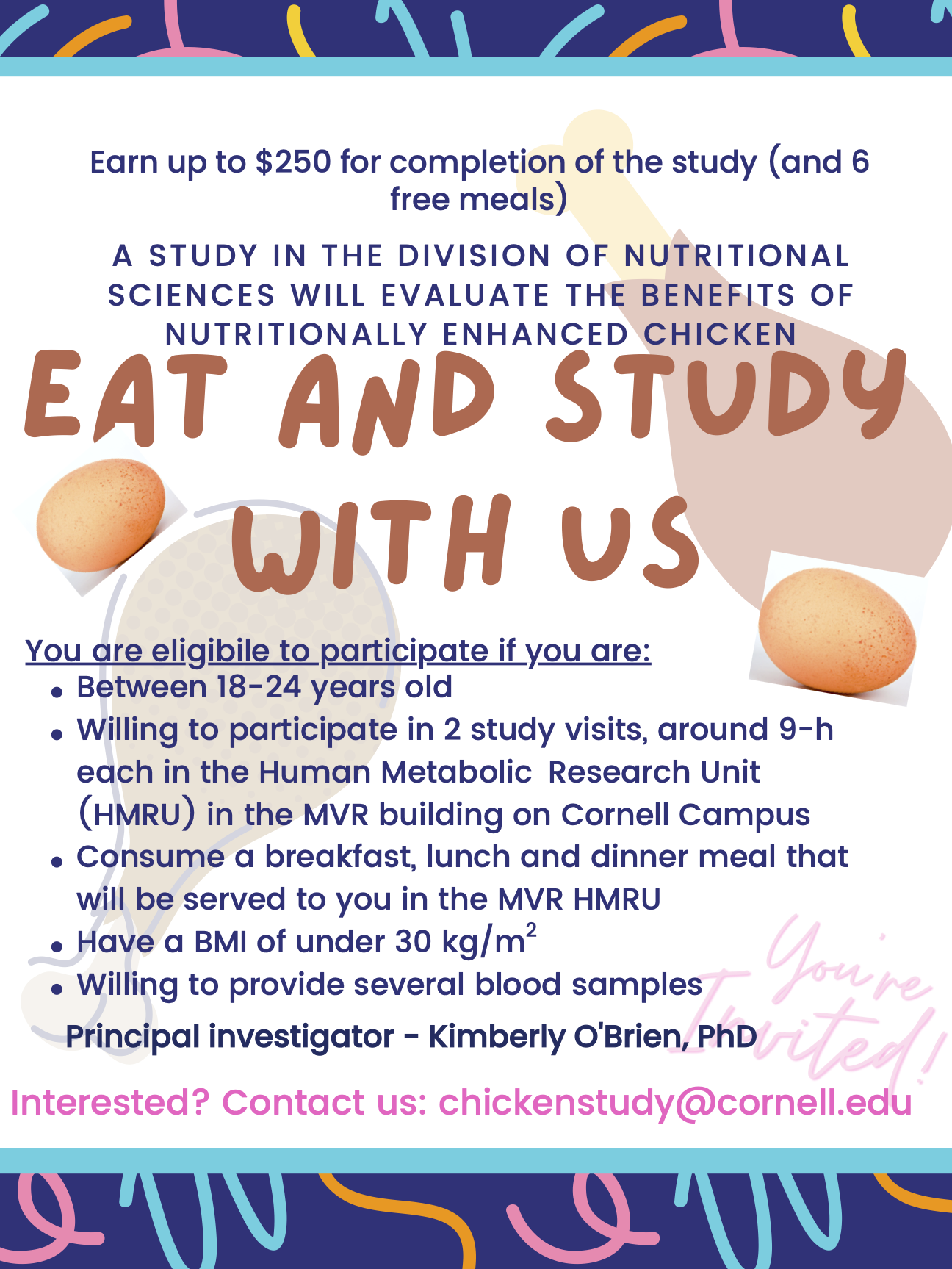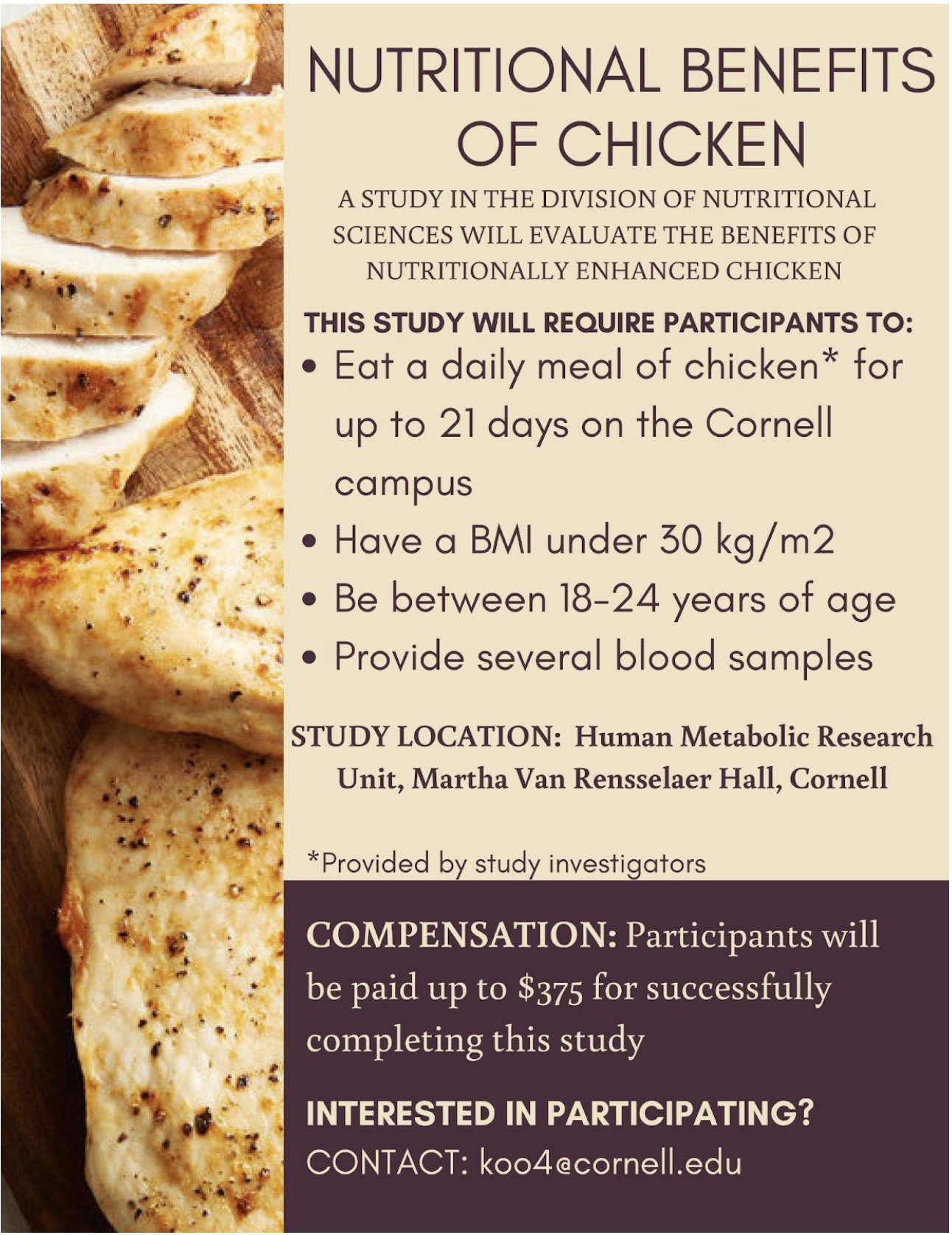 The Nutritional Benefits of Chicken Study, led by the O'Brien Lab, is seeking participants. The study seeks to understand if chicken that is fed a diet that contains omega-3 fatty acids, vitamin D, or both nutrients provides additional health benefits by improving the status of omega-3 fatty acids and vitamin D in healthy adults who eat this bioenhanced chicken. 
Eligibility: BMI under 30 kg/m2, 18-24 years old
Time Commitment: eat a daily meal of chicken for up to 21 days on the Cornell campus and provide blood samples
Study Location: Cornell University (Ithaca, NY)
Honorarium: $375 cash
Email: koo4@cornell.edu
O'Brien Lab Research Projects
Kimberly O'Brien, PhD
230 Savage Hall
Cornell University
Ithaca, NY 14853
607) 255-3743
koo4@cornell.edu
Follow us on social media