Global Health Case Competition
The Global Health Case Competition offers students the unique opportunity to collaborate across multiple disciplines while addressing a real-world global health challenge. This competition is designed to provide Cornell undergraduate and graduate students from any academic major with the opportunity to form teams and explore global health through a diverse array of perspectives. Each year, winners of the Cornell Global Health Case Competition are given the opportunity to compete against students from all over the world at the International Emory Global Health Case Competition in the spring.
Global Health Case Competition - FAQs
What is the Global Health Case Competition?
The Global Health Case Competition gives students from all backgrounds the opportunity to develop a realistic, innovative, and transdisciplinary solution to a global health problem. One week prior to the Case Competition Day, student teams are provided with the global health case and will need to address their solution in their presentation. The 7th Annual Case Competition was held on February 20, 2021 via Zoom.
Why should I participate in the Case Competition? 
The competition allows students to build relationships with students of diverse majors, backgrounds and interests and serves as an important professional experience for all students. This is a unique opportunity for students to apply their knowledge and skills in a competition setting. The winning team will represent Cornell University at the 2021 International Emory Global Health Case Competition, which will be held remotely.
Who hosts the Global Health Case Competition?
The Global Health Students Advisory Board (GHSAB) is a diverse team of dedicated and enthusiastic upperclassmen who represent the Global Health Program and assist with program development and projects, including the Global Health Case Competition. The GHSAB is under the Division of Nutritional Sciences Global Health Program at Cornell University.
Who is eligible to apply? Do I have to be pursuing the Global and Public Health Sciences Major or the Global Health Minor?
There is no required major or minor to apply to the Global Health Case Competition. Undergraduate and graduate students from all majors and programs are encouraged to apply.
What are the participant expectations and responsibilities?
All teams are expected to (1) attend the Case Release Meeting, (2) submit their final presentation on time, and (3) present at the Case Competition on February 20th. All participants are expected to participate equally and be respectful and communicative. Participants should demonstrate flexibility, an ability to collaborate with others, and take initiative.
Can I request to be on the same team as another applicant?
Yes. Students are allowed to apply in pairs or individually. It is not required to apply with another applicant. On the application, students may note who they are applying with, and barring any conflicts, they will be put on the same team. Each applicant should submit an individual application.
Do participants have the option of presenting individually?
No. All participants will be placed in a team of four students. Each team will consist of two undergraduate students and two graduate students.
What does the process look like?
Application Submission
All applications are due on Tuesday, February 9th by 11:59pm ET. The GHSAB will proceed to review all submitted applications. Students currently enrolled in the Masters of Public Health (MPH) Program do not have to apply, as the organizers already have their information.
Application Feedback and Released Teams
The GHSAB will contact all applicants via email to notify them of their application status. Applicants should anticipate an email on Wednesday, February 10th with their application status. Accepted applicants will be placed into a team of four and will be required to attend the Case Release Meeting.
Mandatory Case Release Meeting
A mandatory meeting for all accepted teams will be held prior to the event. The meeting information will be provided in their acceptance email. The official global health issue for the Annual Global Health Case Competition will be released at this meeting. Teams should come prepared with any questions they may have.
Presentation Working Period
The period after the Case Release Meeting until the night before the Case Competition will be the allotted time to work on presentations. Teams will work on their presentations for 1 week between February 12th to February 19th. Office hours will be held by judges and GHSAB members during this week if assistance is needed. Presentations will be due by 5:30pm ET on Friday, February 19th via a form provided at the Case Release Meeting.
Case Competition Day
Participants are expected to be in attendance throughout the entirety of the competition from 9am until 3pm ET.
Watch a recording of our information session and check out this video highlighting the voice of past participants or contact dnsglobalhealth@cornell.edu for more information.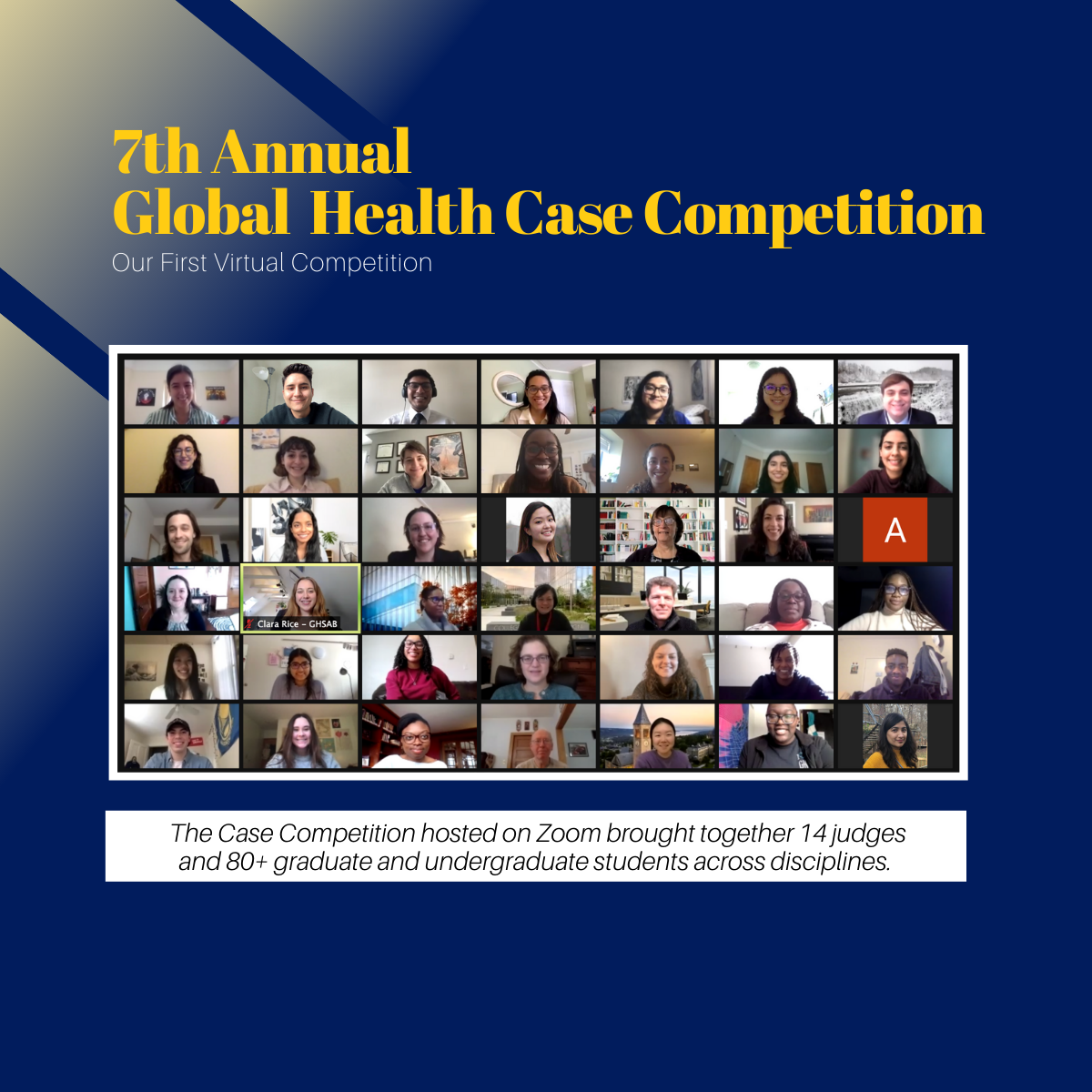 This year the Cornell Global Health Program (GHP) and the Global Health Student Advisory Board hosted its 7th annual Global Health Case Competition. 20 teams of graduate and undergraduate students came together to address the case study, "Hasta La Vista Baby! Government Policies and Effective Initiatives for the Eradication of Measles". The first-ever virtual competition brought together more than 80 students from across the University. Judges for the competition included Cornell faculty, community members, and GHP alumni.
The first-place team will go on to represent Cornell at the 2021 Emory Morningside Global Health Competition!
The Global Health Case Competition was both highly enjoyable and an invaluable learning experience for me! Working with students from various backgrounds and academic disciplines allowed me to see how very different perspectives can be brought together to solve a complex global health issue. The International Competition at Emory was similarly collaborative and provided me an excellent way to learn from leaders in the field as well as other students equally passionate about Global Health.
past participant in the Global Health Case Competition