Paul Soden '21 wins 2019-2020 Ruthanna Wood Davis Award for Academic Achievement in Nutritional Sciences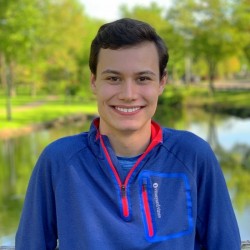 Paul Soden '21, a Nutritional Sciences student in the College of Human Ecology majoring in Human Biology, Health & Society (HBHS) was awarded The Ruthanna Wood Davis Award for Academic Achievement in Nutritional Sciences for the 2019-2020 academic year. This award is presented annually to a junior in the College of Human Ecology with the highest cumulative grade point average in the Division of Nutritional Sciences. Ruthanna Davis, a 1934 graduate of the college, funded this award in December 1998. "As a mother of six children, all of whom have graduated from universities, I have had a continuing interest in young people that may have motivated my desire to establish an award for scholarship at my alma mater," Mrs. Davis now deceased, wrote. During World War II she worked as a hospital dietitian and taught nutrition to nurses in training.  George Davis received international recognition for his research in nutrition and the metabolism of trace elements before his retirement from the University of Florida. Mrs. Davis traveled with him as he lectured in many countries throughout the years.
Paul works in Dr. Isaac Lee's lab in biomedical engineering, where he studies the biophysical factors that contribute to the formation of the perivascular space in the brain. He is also working with Dr. Adam Anderson in Human Ecology to develop preventative interventions for autistic crisis behaviors that are rooted in predictive coding theory and Bayesian inference. 
Paul grew up in Rye Brook, NY in Westchester, an NYC suburb and is passionate about neuroscience, nutritional sciences, and medicine, and hopes to combine these interests as a neurosurgeon in the future. In his free time, he enjoys hiking, playing the piano, and playing tennis. Paul is a member of the Human Ecology Dean's Undergraduate Advisory Council, the Golden Key Honor Society, and is a co-founder of Community Health Education Associates, an intercollegiate non-for-profit that aims to deliver jargon-free news about current research findings to the public. 
Congratulations, Paul!
Past winners of this award are:
2019: Olivia Stamatatos
2018: Sabrina Gonzalez
2017: Cooper Walter
To learn more about the Division of Nutritional Sciences please visit our website or follow us on Twitter | Facebook | Instagram | LinkedIn.