For Participants
Cornell MRI Facility website is under construction.
Our MRI is used to study many research topics including how the brain works including emotions, memory, decision making, and how these processes change with age. 
Please wear comfortable clothes without metal, shiny fabric, or sparkles on the material. We will ask that you remove all piercings and jewelry. If rings are gold or silver and cannot be removed it is ok to wear them while having your MRI. In addition you will not be able to have medicated patches on your body or colored contacts in the scanner.
How to Get to the MRI Facility
The MVR facility is located on the ground floor of Martha Van Rensselaer (MVR) East Hall, G301.  Parking in the underground Forrest Home Garage is available for research participants, please ask your research study coordinator about these spots. See below for additional parking directions.The MRI facility has Cornell key card access however guests and research participants can be escorted into the facility by authorized personnel. All authorized key card access personnel have completed the required training components.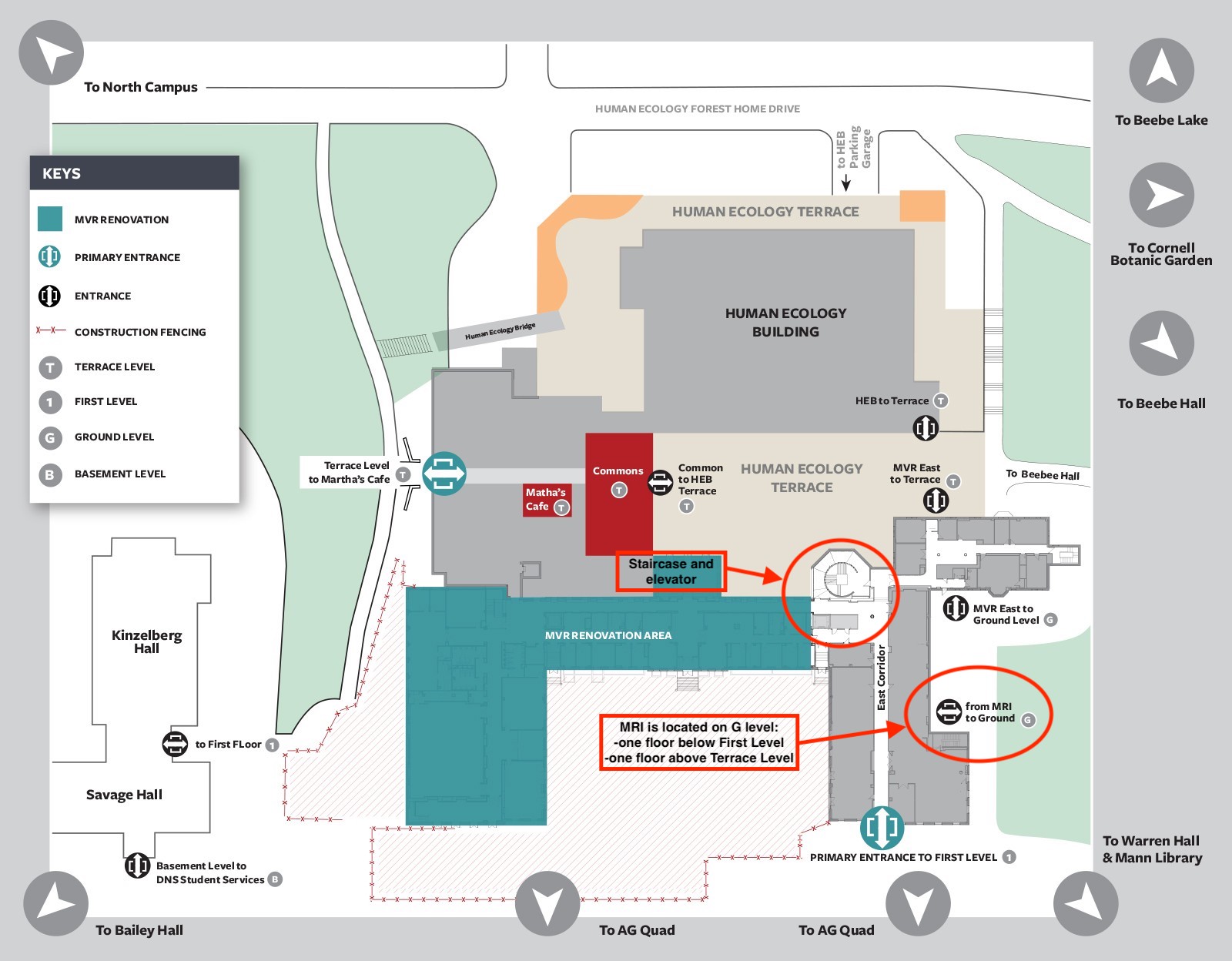 From Bailey Hall, Ag Quad, Warren Hall:
Head towards the east side of MVR, go past the door marked MRI facility (this door is only accessible with Cornell card access). You will see a side door enter the side door and then the door on the right leads to the interior glass door that is marked Cornell MRI facility.
From the Forest Home Parking Garage:
On the first level (1L) of the Forrest home underground parking garage you will find two sets of elevators. Take the elevator that is central to the parking garage and has two entrances to the "T" Level, you are now in the Human Ecology Building.  Exit the elevator and turn left to follow the hallway until you reach a door that takes you outside to the courtyard. Walk through the courtyard and turn right to the entrance that is pointing towards East MVR. Once in East MVR turn right and go up the stairs to the ground floor, make a right and follow the hallway to the end. On the left you should see a glass door marked Cornell MRI facility.