CIPA Regional Alumni Mentors
CIPA Regional Alumni Mentors
International students represent a critically important part of CIPA's global community.  This semester, due to travel and visa restrictions, many of these students will have to begin their studies with us remotely until it is safe for them to travel to Ithaca.  To ensure international students remain connected with our community, resources, and each other, CIPA has developed a Regional Alumni Mentor program.  Through this program, we have asked alumni in each region where CIPA students are concentrated to serve as mentors.  As mentors, they will organize both virtual professional and social events for students, hold office hours, and facilitate introductions to other CIPA alumni in their regions. It is our hope that this program, coupled with Cornell's new Study Away option, will ensure students feel like they are part of the "CIPA family" and that they have the ongoing support they need to progress toward the MPA degree.   
One of CIPA's most extraordinary assets is our global alumni community.  Here, we have a highly-accomplished group of alumni who have stepped up to help students during a particularly challenging time--not just in terms of transitioning to graduate studies, but staying connected to CIPA, and each other, during a global pandemic.  This is very likely one of the most important alumni engagement activities we have ever developed, and I encourage other alumni who would like to participate to reach out to us.
Executive Director of CIPA
East Asia Mentors
Su Tan '10
Director, AW Education International
Concentration: Finance and Fiscal Policy (This concentration name has since changed)
Location: Shanghai, China (CST)
With hybrid roles in international affairs and communications, Su Tan has experience working for both U.S. and Asian leading financial institutions in a multicultural environment. Su holds a bachelor's degree in international affairs from China Foreign Affairs University (2008) and a Master of Public Administration from Cornell University (2010) with a concentration in Finance and Fiscal Policy.
Su Tan joined the World Bank in 2010, working as an analyst focusing on Asian affairs. Su served as a department manager of the UBS AG Singapore branch from 2013-2015, managing Asia-specific economics and political risk assessments.  In 2016, Su Tan served as an International Settlement Specialist at China Everbright Bank, where she worked in the bank's Trade Finance Department.
With ten years of experience working at the intersection of U.S.-China affairs, Su is enthusiastic about the positive exchanges between the two countries, committed to the development of bilateral relations and mutual benefit between China and the United States. Longing for international education with a sincere sympathy of humanity, Su Tan joined an educational consulting firm, and was recently promoted as Director for AW Education International.
Rong Yu '12
Senior Manager, PwC
Concentration: Economic and Financial Policy
Location: Hong Kong (GMT+8)
Rong is a Senior Manager in PwC's Strategy Consulting practice with years of experience advising institutional investors and leading corporations across the US, UK, Europe and Asia. She specializes in sustainable investment, ESG integration and deal value creation strategies covering active and passive investing across all major asset classes and investment vehicles. Rong previously worked at PwC's New York and London offices before relocating to Hong Kong. Prior to PwC, She worked at the World Bank Group and the United Nations Development Programme in Geneva, Switzerland. Rong holds a Master of Public Administration degree from Cornell University in Ithaca New York and speaks English, French, Mandarin and Cantonese. 
Peter He '19
Founder and CEO of Hanyuan Air
Concentration: Science, Technology, and Infrastructure Policy
Location: China (GMT+8)
Peter He, Graduated from CIPA in 2019, IPMF(Infrastructure Project Management and Finance) Fellow. Peter is the Founder and CEO of HANYUAN AIR, a start-up Business Aviation Company in Shenzhen, his business focuses on Private Jet sales and management and professional pilot/crew training.  Peter is a certified flight instructor and Airline Transport Pilot in Airbus A320 and Gulfstream Business Jets. Before coming to CIPA, Peter worked in business aviation in NYC and established two successful aviation investment projects during and after graduating from CIPA.  Peter travels regularly between major cities in China and is actively involved with Tsinghua SEM program. 
Latin America Mentors
Clemente Avila '15
Social Protection Economist, World Bank 
Concentration: Economic and Financial Policy
Location: Mexico City, Mexico (GMT-5)
Clemente Avila is a Social Protection Economist at the World Bank, based in Mexico City. He has experience in analytical and operational work with a focus on social protection systems, safety nets, labor market policy, public employment services, and impact evaluation. Clemente has authored published studies on the impact of social pensions on poverty and labor supply, on the effectiveness of an unemployment insurance proposal's design, and on fiscal federalism. Prior to joining the World Bank, he worked as deputy director of evaluation of federal programs at Mexico's National Council for the Evaluation of Social Development Policy (CONEVAL). Clemente holds a Master of Public Administration degree from Cornell University, where he was a Fulbright student, and a bachelor's degree in Economics from the National Autonomous University of Mexico (UNAM), where he graduated with honors. 
Adriana Ramírez Flores '18
Deputy Director, Department of Analytics, Banorte
Concentration: Economic and Financial Policy
Location: Mexico City, Mexico (GMT-5)
Flores is an economist from the Mexico Autonomous Institute of Technology (ITAM) with a Master's degree in Public Administration and a Certificate in Environmental Finance and Impact Investing from Cornell Institute for Public Affairs (CIPA). Her professional expertise is in analytics and strategic planning, both in the finance and health sector. Additionally, she has participated in research and consulting projects in agriculture, economic analysis, and impact metrics analysis. Flores is currently working in Mexico City as a deputy director in the Analytics Department of Banorte.
Eduardo Ascanio Gosling '19
Communications Consultant, Inter-American Development Bank
Concentration: Government, Politics, and Policy Studies
Location: Washington, D.C., USA (EST)
Eduardo Ascanio Gosling is a communications consultant with 10 years of experience in public, private, and non-profit sectors. He grew up in Caracas, where he worked as a Communications General Manager for a local municipality and as a strategic communications consultant for private firms. He graduated from Cornell University with a Master of Public Administration (MPA) with focus on Public Policy and a certificate in Environmental Finance and Impact Investing. Previously, he completed a Master in Political and Corporate Communications at the University of Navarra. Ascanio Gosling is currently working at the Inter-American Development Bank in Washington D.C, where he is a member of the Strategic Communications Unit (SCU) of the Knowledge, Innovation and Communications (KIC) department.
South Asia Mentors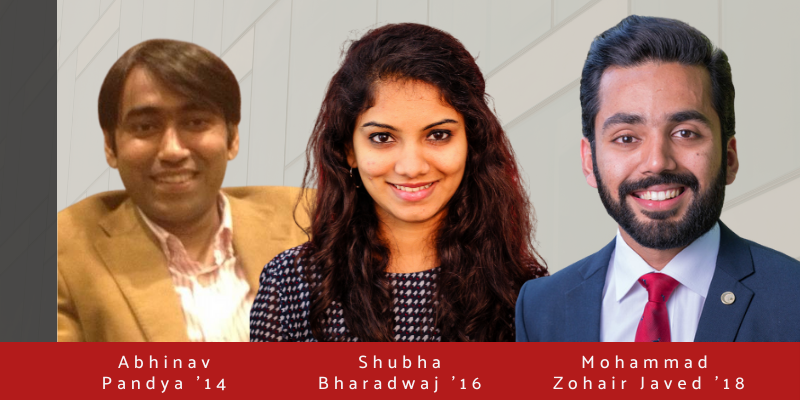 Abhinav Pandya '14
Founder & CEO, Usanas Foundation
Concentration: International Development
Location: India (GMT+ 5:30)
Abhinav Pandya is a Strategic Affairs Analyst specializing in counterterrorism, Indian foreign policy, and Afghanistan-Pakistan geopolitics. He has written for the Vivekananda International Foundation (VIF), a premier think tank of India in national security, Haaretz (Israel), Sunday Guardian, South Asia Democratic Forum, Perspectives on Terrorism, the Express Tribune (Pakistan), Huffington Post, Fair Observer (U.S.), Indian Military Review, Indian Defence Review, Policy Perspectives Foundation (India), The Print, First Post and Economic Times (India). For VIF, he wrote critical papers on post-ISIS terrorism-scenario, terror-financing, and the use of bitcoins in terror financing. He is currently undertaking a comprehensive research project on Terror financing in Jammu and Kashmir for his upcoming book on the subject. He is based in Udaipur, India, and is a free-lance researcher.
Shubha Bharadwaj '16
Analyst, Public Policy Consulting, The Economist Intelligence Unit (The EIU)
Concentration: Economic and Financial Policy
Location: Delhi, India (GMT+ 5:30)
Shubha Bharadwaj works with the Economist Intelligence Unit's (EIU) Public Policy practice in India. She has expertise in providing evidence-based insights for policymakers and stakeholders. In her role at the EIU, she designs and manages research programs for clients in need of policy advocacy, thought leadership, strategy and analysis. She has experience working on critical public policy issues, including food security, financial access and macroeconomic issues. Before joining the EIU, Shubha worked at India Ratings & Research (Fitch Group) for their macroeconomic research team. She has also held several research and consulting roles with government agencies in the US, including the New York City government. Shubha graduated from Cornell University in 2016 with a Master of Public Administration (MPA) with focus on Economic and Financial Policy.
Mohammad Zohair Javed '18
Consultant, World Bank
Concentration: International Development
Location: Pakistan (GMT+5)
Mohammad Zohair is currently working at the World Bank's Pakistan office in the Finance, Competitiveness and Innovation Practice. His project portfolio comprises two projects on tourism, one on SME Development and one on urban waste management. He is a graduate of CIPA and a Fulbright Scholar, completing his MPA in 2018 with a concentration in International Development. Prior to CIPA, he worked at two startups in Pakistan. His primary areas of interest are Private Sector Development and Urban Policy. He has a BSc in Economics from the National University of Sciences and Technology, Pakistan.