When CIPA offered students the support of Lecturer Rebecca Morgenstern Brenner as a competition coach this past year, CIPA fellows embraced the opportunity, entering a record number of policy-type competitions around the globe. In 2018, students were involved with three competitions. This calendar year, groups of CIPA students have already participated in five, with two more on the books for later in the year.
"These competitions are a unique opportunity for students to take the tools and skills they are learning in the classroom and apply them to a competitive setting," says Brenner. "This mimics the very real competition they will face in their public service careers, as they vie for limited resources, budget, time, agenda attention, and support for their innovative policy ideas. It also allows them to network with other MPA students who will be their colleagues in the near future. They will learn to pull together as a team and look at wicked problems in new ways."
Student performance at these competitions has been noteworthy.  Here are a few highlights from spring semester:
Brenner led a group of five students to the Shaping Future Governments Global Universities Challenge at the World Government Summit in Dubai UAE Feb. 10 to 12. This was the second year that CIPA was included in thisinvitation-only competition, which brings 15 top tier graduate programs globally in public policy and business administration to help shape the future of government. While CIPA's team did not win this competition, the UAE government expressed admiration for the group's teamwork, management skills, professionalism, and presence. Because of the team's performance, they singled out CIPA to invite to participate in a new collaboration, which is currently in the works. More details will be forthcoming.
 
First-year students Khyatee Tewari, Stefy Smith and Anam Amin won the C.K. Prahalad Social Innovation Grand Challenge at the 2019 Ross Business School's Michigan India Conference Feb. 14 to 15. They were selected as finalists from more than 30 teams and competed against six teams in the finals, including teams from India and Singapore. They placed first and were awarded $4,000.
CIPA students were among 40 graduate students from 11 universities in the region to participate in the 2019 NASPAA-Batten Student Simulation Competition, held Feb. 23 at the Villanova University site. This year the simulation placed students in leadership roles within groups, which had to band together under the pressure of time constraints and with limited resources, to manage a migrant influx. CIPAstudents were on a team that took second place; less than one point separated their group from the top team.
First-years Stefy Smith, Khyatee Tewari, and Priscilla Koo Wilkens, along with Sena Katako (Biomentry & Stats) and Samuel Opoku-Agyemang (Computer Science) were awarded a $1500 prize for "Most Novel Idea" at Cornell University's Digital Agriculture Hackathon held March 1 to 2. Their team developed an app that provides crowdsourced information for farmers in developing countries. Members drew from their own experiences in African countries, including Senegal, to identify the problem of lack of information access in rural areas.
CIPA students Muhammad Ali Ilahi, Dora Tan, Kate Long, Sebastian Molina Gasman, and Anshuman Gupta took advantage of the workspace views of the Burj Al Arab Jumeirah while in Dubai for the World Government Summit.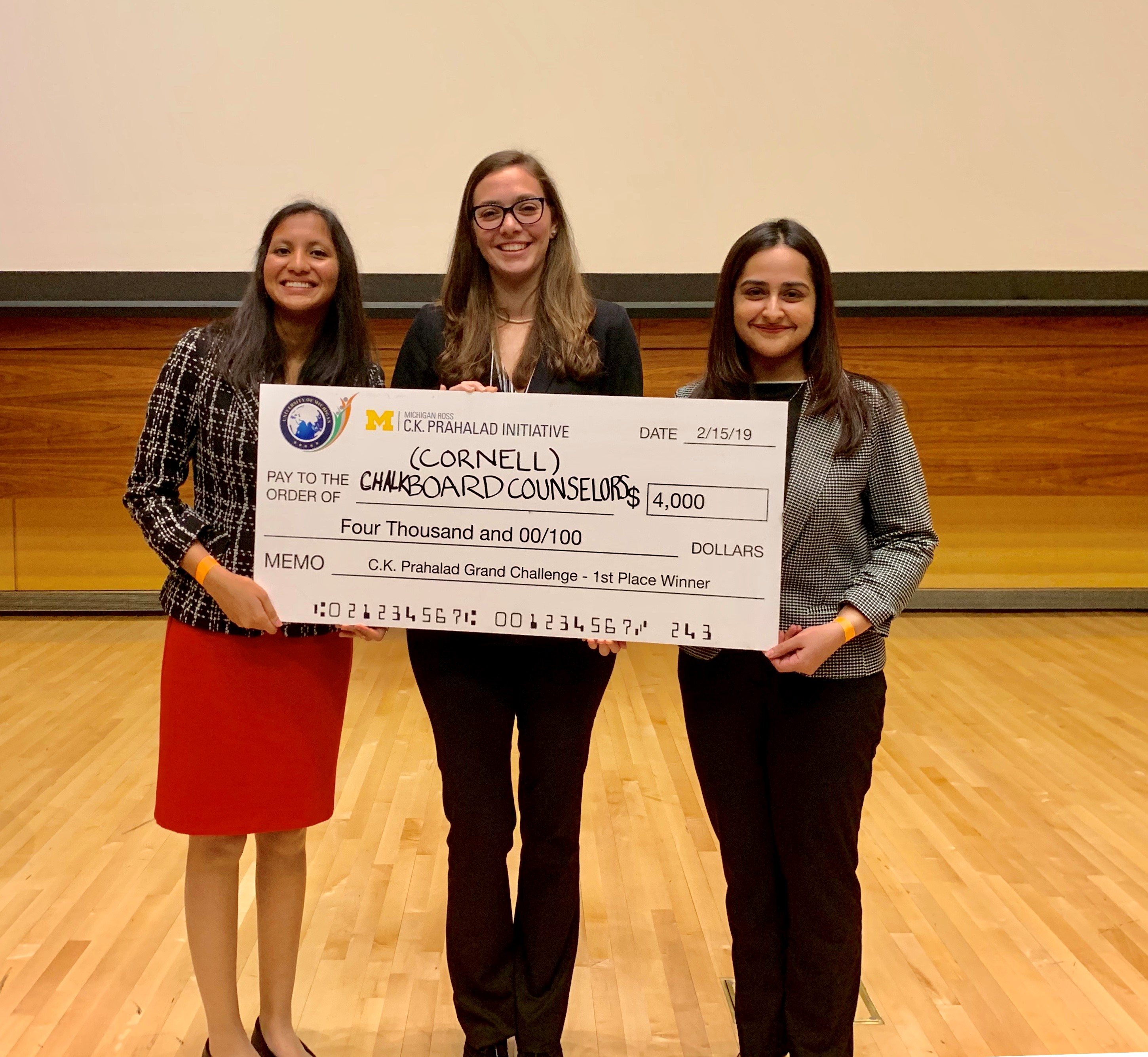 As the winners of the Social Innovation Grand Challenge at the 2019 Ross Business School's Michigan India Conference, first year students Khyatee Tewari, Stefy Smith and Anam Amin received $4000.